[Comédie Musicale] Kuroshitsuji : The Most Beautiful DEATH In The World
Posté:
Jeu 17 Mai 2012 14:56
Kuroshitsuji : The Most Beautiful DEATH In The World, la tragédie des Shinigami
Une histoire magnifique portée par une mise en scène grandiose et des acteurs talentueux, cette comédie musicale se classe parmi les meilleures.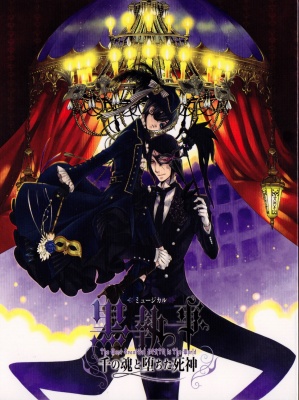 Titre : Kuroshitsuji : The Most Beautiful DEATH In The World - Sen no Tamashii to Ochita Shinigami (Un millier d'âmes et le Shinigami déchu)
Adapté du manga : Black Butler de Yana Toboso
Éditeur VF : non licencié
Type : Comédie musicale japonaise
Genre : Drame, Comédie, Fantastique
Durée : 2h
Réalisateurs : Fukuyama Sakurako
Dates : 03/05 - 23/05/2010
Casting
[table border=1][tr][td]
Acteurs principaux
[/td][td]
Dans le rôle de
[/td][/tr][tr][td]Nishii Yukito

[/td][td]Ciel Phantomhive

[/td][/tr][tr][td]Matsushita Yuya

[/td][td]Sebastien Michaelis

[/td][/tr][tr][td]Uehera Takuya

[/td][td]Grell Sutcliff

[/td][/tr][tr][td]Nagaoka Takuya

[/td][td]William T. Spears

[/td][/tr][tr][td]Yousuke Crawford

[/td][td]Ronald Knox
[/td][/tr][tr][td]Saeki Taisuke

[/td][td]Eric Slingby

[/td][/tr][tr][td]Matsumoto Shinya

[/td][td]Alan Humphries

[/td][/tr][tr][td]Fujita Rei

[/td][td]Vicomte de Druitt

[/td][/tr][tr][td]Izumi Shuuhei[/td][td]Undertaker[/td][/tr][tr][td]Iwasaki Dai[/td][td]Baldroy[/td][/tr][tr][td]Minami Shouta[/td][td]Finnian[/td][/tr][tr][td]Igari Atsuko[/td][td]May Linn[/td][/tr][tr][td]Ise Naohiro[/td][td]Aberline[/td][/tr][tr][td]Takatoshi Aoki[/td][td]Sharpe Hanks[/td][/tr][/table]
Résumé
La ville de Londres est frappée par une grande vague de meurtres mystérieuses. Les victimes semblent n'avoir aucun lien entre elles et le corps de celles-ci n'ont reçu aucune blessure. C'était comme si leur coeur s'est arrêtée de lui-même. Chagrinée, la Reine demande au comte Ciel Phantomhive de mener l'enquête aux côtés de son fidèle majordome Sebastian Michaelis.
Pendant ce temps, au Service de Contrôle des Shinigami on s'aperçoit d'un grand nombre d'âmes non-collectées. William T. Spears charge donc deux de ses Shinigami subordonnés, Alan Humphries et son ami Eric Slingby de résoudre le mystère.
Informations complémentaires
D'autres comédies musicales de la même série : Kuroshitsuji : That Butler, Friendship
Critique
SI la première comédie musicale adaptée du manga Black Butler était déjà très bien,
Kuroshitsuji : The Most Beautiful DEATH In The World
est d'un autre niveau.
Je n'ai jamais été aussi prise dans l'histoire, incapable de m'arrêter
. Les scènes s'enchaînent, on change de lieux, de personnages avec une fluidité incroyable sans perdre les spectateurs. Même si on connaît déjà la fin de l'histoire, on ne peut s'empêcher d'avoir les yeux scotchés à l'écran en attendant que le cruel verdict tombe.
Alan et Eric sont deux personnages originaux spécialement créés par l'auteur Yana Toboso pour cette pièce.
Leur histoire tragique en est le point central
. Alan est atteint par la seule maladie incurable capable de tuer les Shinigami. On prétend qu'elle peut être guérie en rassemblant un millier d'âmes. On connaît donc le coupable de l'affaire très tôt dans l'histoire, mais ce n'est pas ce qui nous intéresse. Bien qu'ils soient presqu'immortels, bien qu'ils aient le pouvoir de vie ou de mort sur les humains,
les Shinigami sont peut-être plus pathétiques que les mortels
. La solitude qu'ils ressentent face au temps est si grande qu'ils se cramponnent à tout ce qu'ils peuvent. La relation d'Alan et Eric est sincère et touchante. Seuls les sous-entendus des autres personnages le laissent entrevoir, mais on sait que cette relation est spéciale. L'alchimie entre les deux acteurs qui les jouent rend cette impression encore plus perceptible, avec comme point culminant
leur magnifique duo

Unmei
.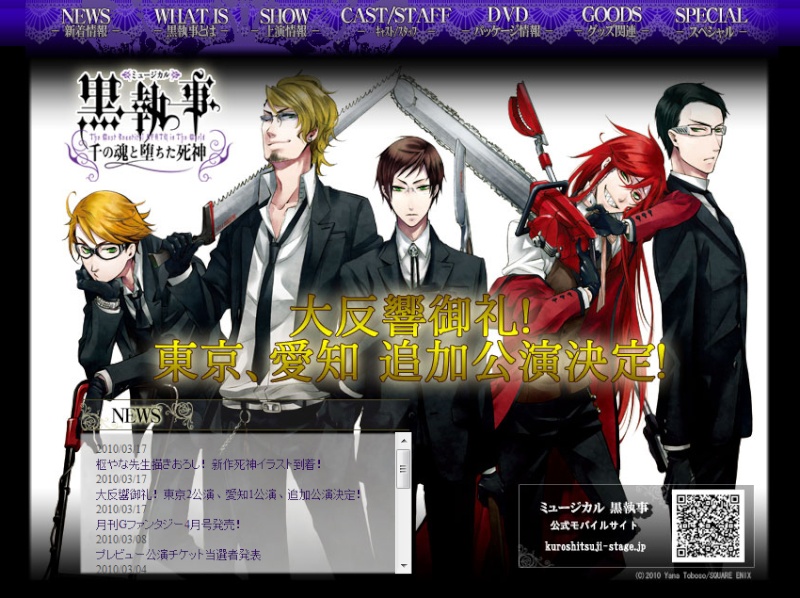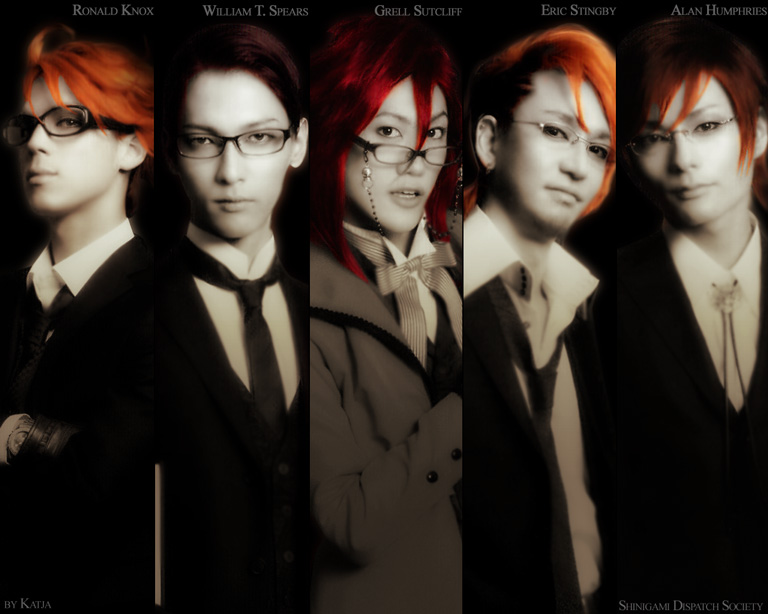 Cliquez pour agrandir
En plus de la relation entre Eric et Alan,
The Most Beautiful DEATH In The World

met en exergue celle entre Ciel et Sebastian
. En effet, la pièce commence avec la scène où Ciel invoque son diable de majordome pour la première fois et termine par la phrase qui caractérise le mieux ce qu'éprouve Sebastian à l'égard de son maître/sa proie (phrase qu'il a déjà dit -je crois- pendant l'arc du Cirque dans le manga). De ce fait, la comédie musicale se rapproche encore plus de l'oeuvre originale jusqu'à en capturer l'essence dans certaines scènes.
Elle jongle avec le comique et le tragique avec une facilité déroutante
.
Avant on avait droit seulement à 7 chansons, maintenant on en a 14 ! Toutes les chansons sont agréables à écouter. On retrouve la plupart des acteurs de la première comédie musicale That Butler, Friendship, à part Ciel et Baldroy. J'ai été très déçue que Ciel ne soit plus joué par Sakamoto Shougo, son Ciel était parfait, cynique et mature.
Nishii arrive à créer un Ciel très différent, il met en valeur le côté presque haineux d'un enfant traumatisé.
Son jeu est moins subtil et sa voix instable dans les aigus, mais sa performance reste très respectable. Matsushita Yuya (Sebastian) s'est beaucoup amélioré depuis la première comédie musicale, sa voix a gagné en puissance.
Grell est toujours aussi inutile mais qu'est-ce qu'on l'aime !!
Ses jambes méga sexy rendent n'importe quelle fille jalouse. J'ai eu un gros coup de coeur pour William et Ronald. Les acteurs de ces derniers sont juste le portrait craché de leur personnage.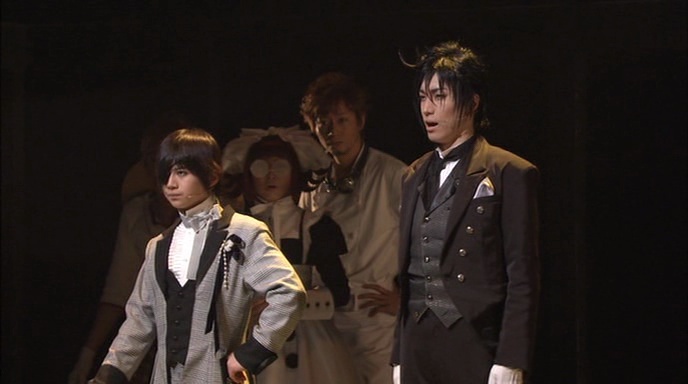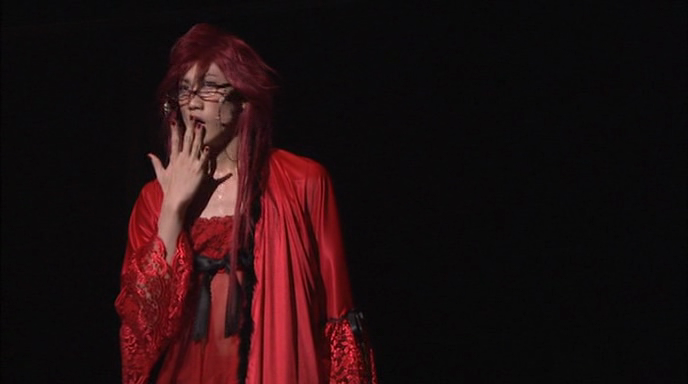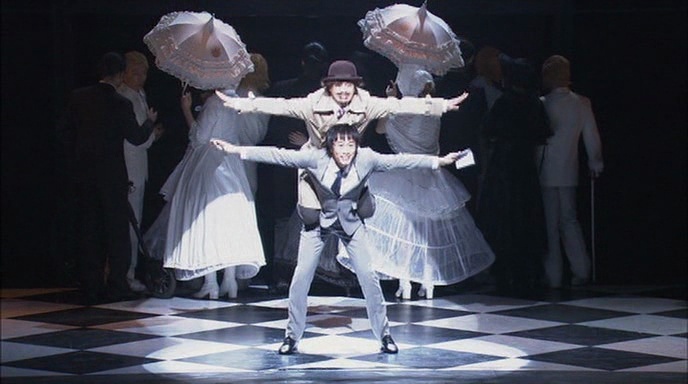 Cliquez pour agrandir
Vidéo
Cette fiche est la propriété exclusive de son auteur. Conformément au code de la propriété intellectuelle, toute copie, totale ou partielle est illégale et sera signalée à votre hébergeur.